Please join us in celebrating the Graduation of the Class of 2021 – Sunday, May 23 – 12:00 Noon. Commencement Speaker will be 1988 SCHS Graduate Eileen Briggs.

Students in grades JK-5 will not have school on Thursday, May 20th due to the air conditioning not working in the elementary building. Students in grades 6-12 and Cheyenne school will have regular classes. Again, there will be no school for JK-5 students only. Thank you for understanding. Staff will still report.
Stanley County Elementary will be hosting RALLY DAY on Thursday, May 27th at 10:00 a.m. Parents are invited to come watch and join us for a picnic lunch at Lily Park following the events. Please RSVP to your child's teacher before Thursday, May 20th.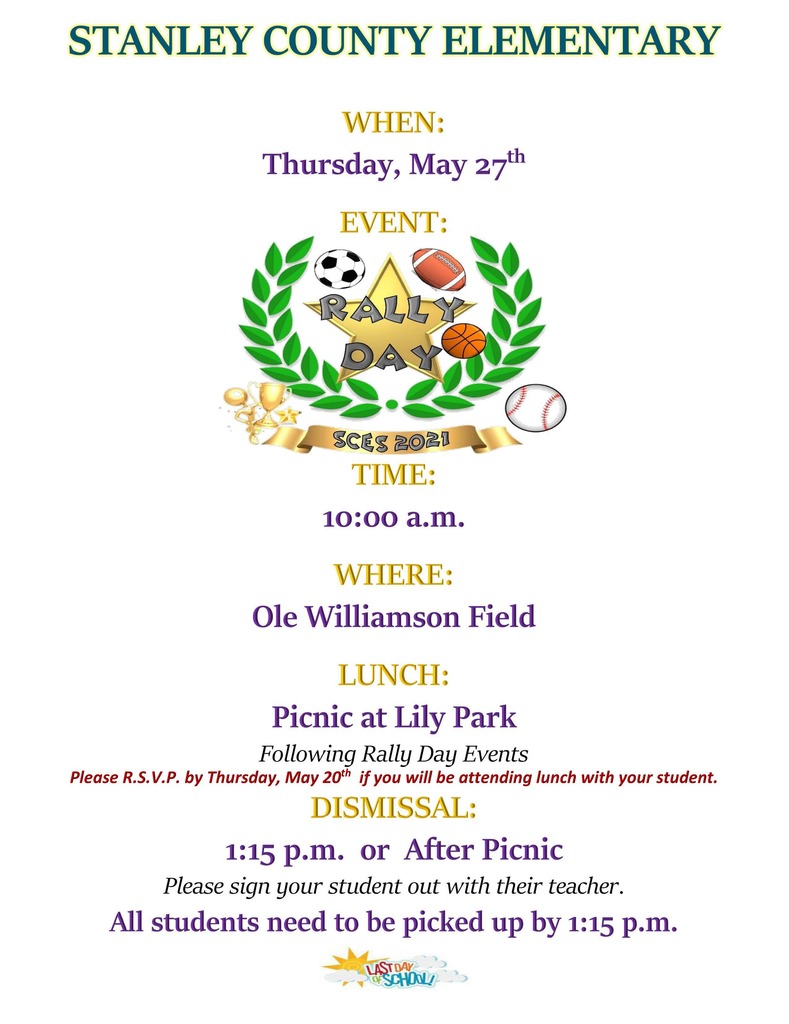 Last Enrichment Friday for the 20-21 School Year - May 14 - 8:00 a.m. - 12:00 p.m.

Delta Dental is coming to Fort Pierre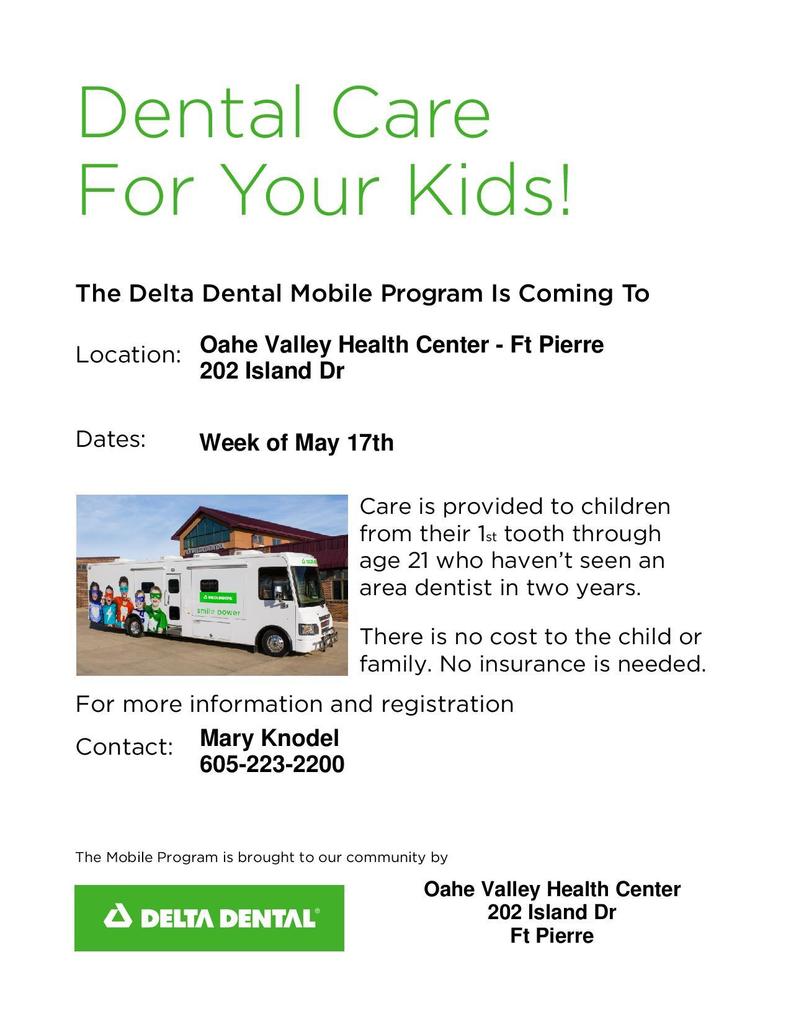 Mr. Johnson's Agriculture classes are having a "free will" plant sale. This event is open to the public. The Ag Building is directly across from high school.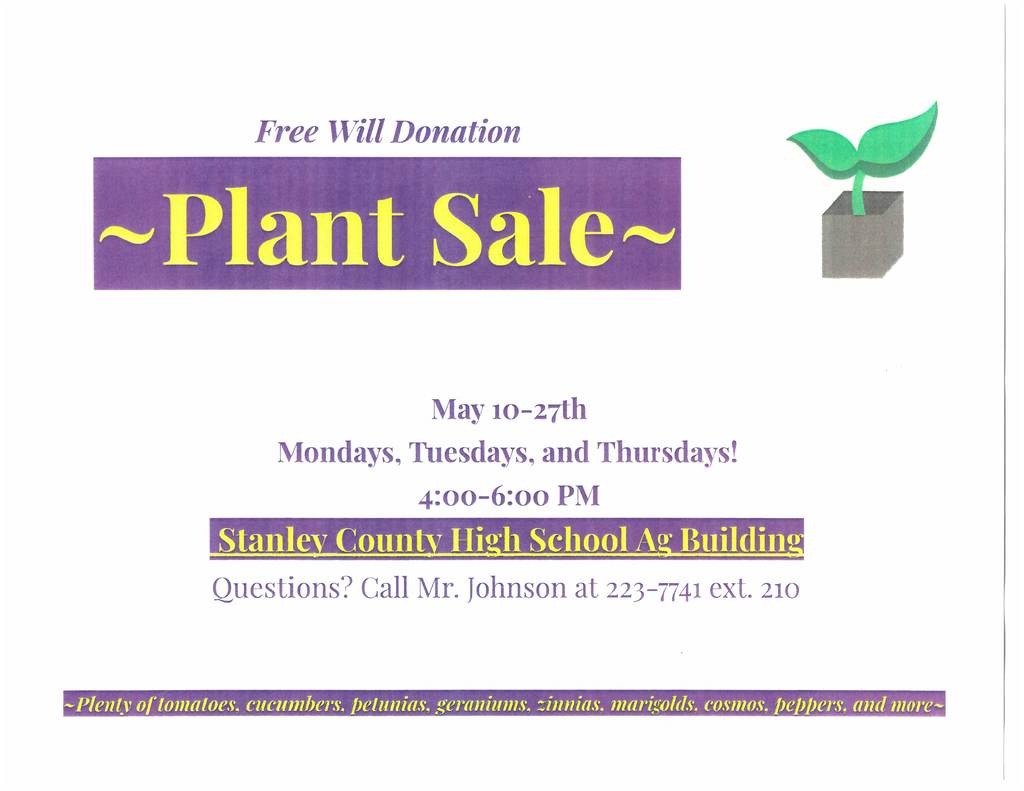 Live now in the Parkview Auditorium- Middle-High School Spring Concert


Mr. Tom Glanzer, Community Relations Manager at NorthWestern Energy, visited Stanley County Middle-High School on Monday, April 26. He gave an inspirational and motivational speech at an assembly. Mr. Glanzer spoke of the personal impact COVID has had on his family. He also spoke with students about overcoming and dealing with life struggles.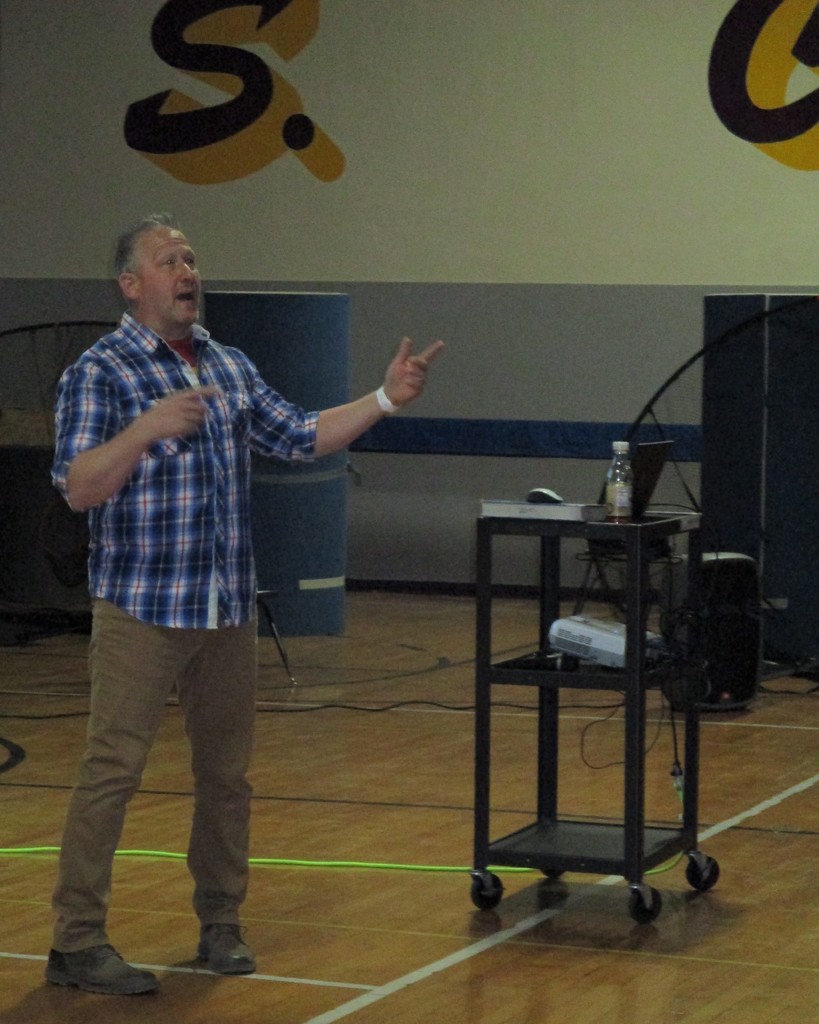 TUESDAY; MS Golf @ Potter Co 10am THURSDAY; Track @ Lyman Field Events 12:00 Running 2:00 FRIDAY ; MS Track @ Mobridge 2pm: MS Golf @ Wall 2pm MST SATURDAY; Golf @ Eureka 10am
May 6 The Stanley County Booster Club is sponsoring the 2021 Stanley County Athletic Banquet @ the youth Center. The banquet begins at 6:30. Athletes this is a dress up affair.

The Elementary Spring Concert will be held May 11, 6:30 p.m. at Parkview Auditorium. "Child of the Universe" is the theme. While the concert is open to the public masks are highly encouraged.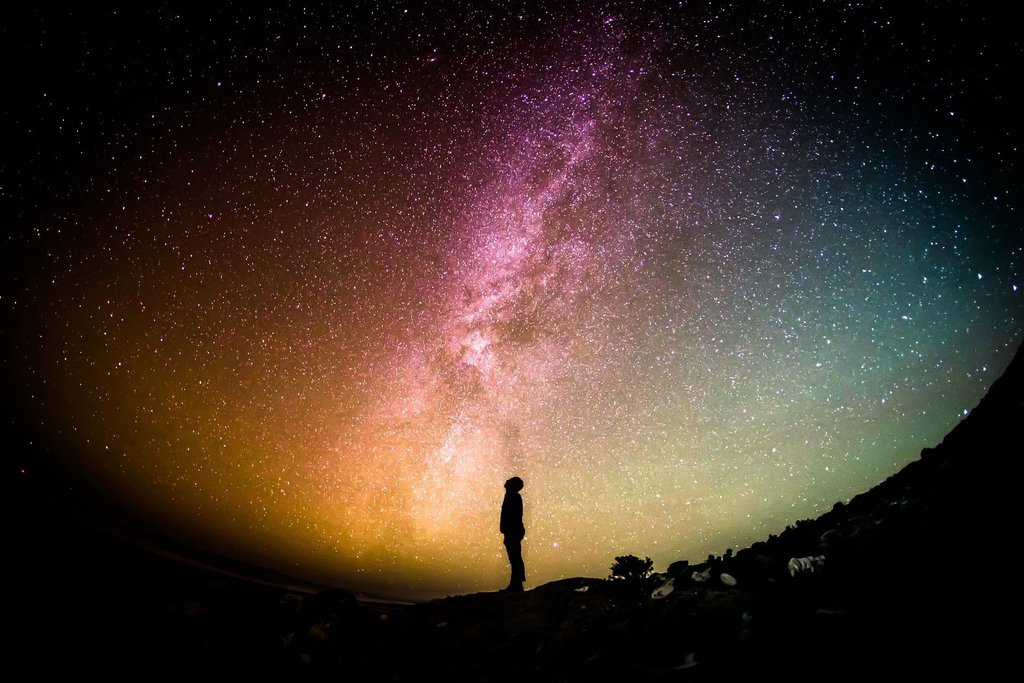 Stanley County Sports April 19-24: MONDAY Gregory MS Track Reschedule is cancelled, TUESDAY BDC Track in Chamberlain, THURSDAY MS Track @ Platte, FRIDAY Pierre Legion Relays (limited enties) SATURDAY Ipswich Relays.

The middle and high schools will be administering the Smarter Balanced Assessment this coming week of April 19-22. As you know, we have been busy preparing and reinforcing the skills necessary for students to demonstrate their learning. Even though this assessment is a snapshot—one single perspective – it is important that our students have every advantage to do their very best. There are many ways in which you can help your child to do his/her best. The following guidelines can help set our students up for success. 1. Bring a pair of headphones or earbuds for the English portions of the test. 2. Emphasize the importance of the test, but remember to build confidence, not anxiety. 3. Make sure your child goes to bed on time, so he or she is well-rested. 4. Be positive and confident in the fact that you know your child will do his/her best. 5. Plan ahead to avoid conflicts on the morning of the test. 6. Ensure that your student is ON TIME to school

Middle-High School Spring Concert will be held May 4 at 7:00 p.m. at Parkview Auditorium. While the concert is open to the public masks are highly encouraged.

Enrichment Friday, April 13, 2021 - 8:00 a.m.-12:00 p.m. Midterm is Wednesday, April 21.
TUESDAY: Trap Shooting cancelled today due to wind. If you would like to shoot Wednesday contact Coach Johnson or Meyer
Stanley County Sports for this week April 12: MONDAY: MS Gregory meet cancelled. TUESDAY: Kadoka Track Meet cancelled. THURSDAY: MS Track meet in Pierre 3:30. SATURDAY: Gettysburg Track 12:00