Nov 2nd-6th is Free College Application Week. Applications must be submitted by 3:00 on Nov 6th to qualify for the fee waiver. Seniors please check your email for details. Please see Mrs. Natvig if you have questions.

Juniors and Seniors, Spring term dual credit enrollment begins on November 1st and you must be signed up BEFORE Christmas break. Many of the classes fill up quickly, so do not delay completing your application. Please see your email for more details.

Juniors and Seniors, Spring term dual credit enrollment begins on November 1st. Many classes fill up quickly, so do not delay completing your application. Click on this link
http://apps.sd.gov/de68dual/index.html


Enrichment Friday for students grades 6-12: Friday, October 30, from 10 am-noon. If a student needs help or is behind in a class, come and get assistance from your teachers.

Support our National Honor Society and FFA by purchasing fruit. Go to the website
www.myfruitsale.com
, if you have a student code you can enter the code prior to ordering. If you do not have a student code click on "I don't have a student code". You will be asked to select your state then scroll down to Stanley County School. At check out you will be able to attribute your purchase to a specific student or to the general groups. All sales are due by Nov 12. Expected delivery is Dec 1.

Good luck to our Girls' Cross Country runners at the State meet Saturday, October 24. The race begins at 3:30 p.m. at Hart Ranch in Rapid City. Representing Stanley County and pictured left to right are: Bailey Siedschlaw, Sarah Fosheim and Kaysen Magee.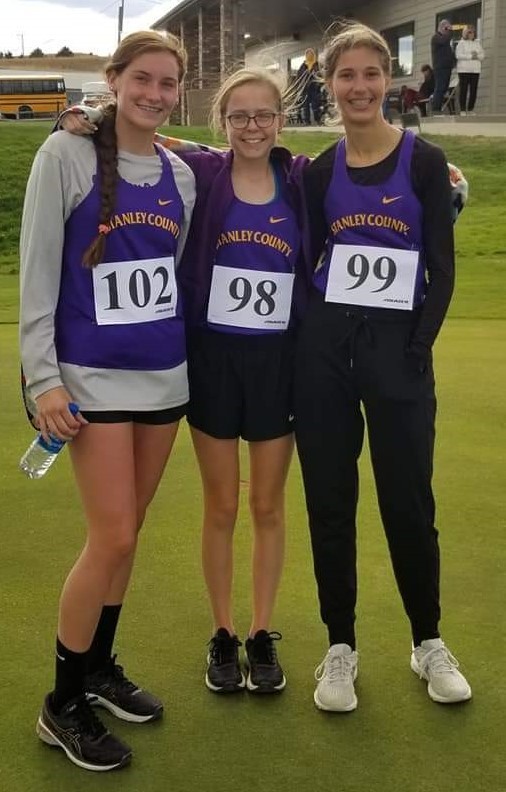 Student Council is sponsoring a food drive through December 10th. If you would like to help, please bring canned or packaged food to the Middle-High School. Donations will be distributed before Thanksgiving and again at Christmas. Thank you for your support.

Parents and Guardians, Like so many other subjects, parent/teacher conferences will have a new look this year as we continue to navigate through a COVID school year. This year parent/teacher conferences will be virtual via zoom. The conferences will be Tuesday, October 20, and Thursday, October 22, from 4:00 p.m. until 7:00 p.m. More information regarding online registration will be forthcoming as soon as the registration site is ready.

End of First Quarter Monday, October 19

Picture Re-Takes Monday, October 19, 2020

The Stanley County School District will be moving back to Level One for the school day and Tier 1 for athletics beginning Friday evening. Saturday's homecoming football game will be under Tier 1 guidelines, which allows for open attendance. If you are not feeling well or are in quarantine, please do not attend on Saturday. Thank You

The volleyball match tonight is Tier 2. Only parents of participating athletes and current students are allowed to attend.

We thought we maybe the best Monday Night Football game on tv next week, but the beast hit again. Mt Vernon-Plankinton has had an out break of covid-19 and has cancelled all activities until October 12. So our game with them is cancelled with no chance of rescheduling.

Applications to be a legislative page are available in the counselor's office. This opportunity is open to juniors and seniors. See Ms. Natvig for more information.

Washing Face Masks: The CDC guidelines recommend washing masks "regularly." Experts more specifically say that masks should be washed at the end of each day, especially if they are dirty or wet. But there's no need to wash masks separately from your regular laundry.

Tonight's home volleyball match vs. SBA will only be open to the parents/guardians of players and current Stanley County and SBA students. - - - Stanley County Schools are currently operating under the Tier 2 guidelines set forth by the SDHSAA

This message is going out to all Stanley County students, parents, and guardians, We wanted to share a few kind reminders before our return to in-person learning tomorrow, Thursday the first. Appropriate face coverings are required when social distancing is not possible. This Friday, the 2nd is a full regular school day. Homecoming will be next week; please see the school website for themes, dress-up days, and events. Thursday's home volleyball game will be held under SDHSAA Tier 2 guidelines, which limits attendees to parents/guardians of participating athletes and SC and SBA students. We believe and hope these measures will allow the district to return to Level 1 in the next two weeks.

We are finishing our second week and, hopefully, our final day of distance education. Three quick reminders for our return to in-person learning on Thursday When we return on Thursday, appropriate face coverings will be required for all students and staff. A break from wearing a mask will happen when social distancing is possible, and during lunchtime, at all other times, students and staff will be required to wear an appropriate face covering. Friday will be a regular school day. Please bring all school devices and student-work with when returning to school Thursday morning.

It's not too late to sign up for tonight's Financial Aid Informational Presentation There will be a financial aid informational presentation for students and parents/guardians on September 22nd at 7:00 p.m. The Free Application for Federal Student Aid (FAFSA) is the application that most higher education institutions use to determine a student's financial need, which determines a student's eligibility for student loans, grants, and many internal scholarships. This session will cover how to apply for the FAFSA, and it will also provide information on many other financial issues related to higher education. We will be doing this year's financial aid night by zoom. Please email me at
larae.natvig@k12.sd.us
to let me know that you would like to participate and please specify the email address to which I should send the invite.