Sully Buttes rips Lady Buffs in opener, 88-28
FORT PIERRE - The Stanley County Lady Buffs and the Sully Buttes Chargers both opened their seasons Tuesday against each other, for Stanley County it was a disappointment and for Sully Buttes it went as planned.
Sully Buttes won its opening contest in dominating fashion with an 88-28 victory in Fort Pierre.
The Chargers wasted little time in taking control of the game and never looked back. The Chargers quickly took a 10-2 lead, while Stanley County could not come up with the answers needed to compete with Sully Buttes.
The Chargers essentially put the game away in the first quarter, thanks in part to suffocating defense, which featured a full-court press that baffled the Lady Buffs. Stanley County turnovers led to easy points in transition allowing for the Chargers to take a 30-5 opening quarter lead.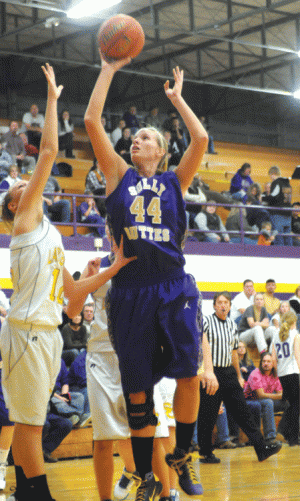 Chris Mangan | Capital Journal

Sully Buttes' Jaymi Schultz puts up a shot over Stanley County's Madison H. in the first quarter of the Chargers 88-28 victory over the Lady Buffaloes at Parkview Gymnasium on Tuesday
"I thought we did a nice job moving our feet in our press and getting in the passing lanes. When we made interceptions we got out and scored points off them," Sully Buttes coach Mark Senftner said.
Taylor Hackett burned her former teammates early with 10 points in the first quarter. While Hackett set the tone for the Chargers, the Lady Buffs could never find their rhythm thanks to a great Sully Buttes defense.
"We need to get the girls in the right mindset and go through our procedures. We have a press breaker but we didn't execute it. We just need to make sure it's working in Highmore on Saturday," Stanley County coach Rob Ingalls said.
The second quarter was much of the same as the Chargers continued to dominate. Kelly Sweetman temporarily stopped the bleeding when she hit a 3-pointer then followed it up with a steal and an assist to Tory Deal.
Sweetman's effort was not enough though as Sully Buttes put its foot down and ended the Stanley County run. The Chargers took a 48-16 lead into halftime, setting a nice tone for their season.
"With the experience we have coming back, we were ready to have a game. With the depth we have, we were able to get contributions from a lot of people," Senftner said.

Turnovers continued to doom the Lady Buffs in the second half as the rout continued leading to an 88-28 final. For the young Lady Buffs, it was a tough task opening against the contending Chargers.
"We just need to go back to fundamentals and make sure we follow through with our offense," Ingalls said. "It was tough opening against such a disciplined squad like Sully Buttes."
Taryn Colson led the Chargers with 19 points and Hackett finished with 12 points. Deal led all Stanley County scorers with 12 points while Sweetman finished with seven points.
The Chargers will look to continue their winning ways Saturday when they travel to Mellette to take on Northwestern. Stanley County will look to rebound when they travel to Highmore for a contest beginning at 4:30 p.m. Saturday.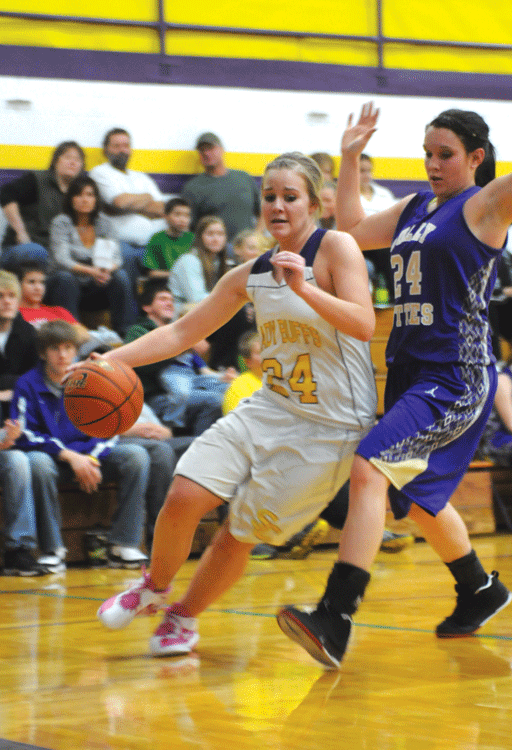 Stanley County's Kelly S. tries to get around Sully Buttes' Rylae W. in the second quarter of the Lady Buffaloes'
88-28 loss to the Chargers on Tuesday.